Specifications
1.deep groove ball bearing 6008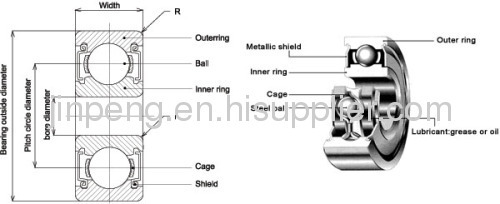 2.Material:
RINGS & BALLS vacuum degassed, high carbon chromium bearing steel GCr15 is the standard material for precision bearing rings and balls. The material has uniform specification as AISL 52100(America)DIN100 Cr6(German),JISSUJ2(Japan)
Chemical Composition(%)

STEEL NO

C

Si

Mn

P

S

Cr

GCr15

0.95-1.05

0.15-0.35

0.25-0.45

0.025

0.025

1.40-1.65
3.OEM service

4
.precision grade:
P0/P6/P5
Standard allowable tolerance grades
GB\T307.1
PO
P6
P5
P4
P2
ISO 492
Normal Class
Class6
Class5
Class4
Class2
JIS B 1514
JIS 0 Grade
JIS 6 Grade
JIS 5 Grade
JIS 4 Grade
JIS 2 Grade
AFBMA STD.20
ABEC 1
ABEC 3
ABEC 5
ABEC7
ABEC9
5. Printing Words
: we can print the any words on products under authorization legally.
6.Quality Guarantee : The items can be replaced or refunded beause of quality problem within one year from the date the buyer get the goods .

VIBRATION AND NOISE

The vibration and noise of bearings are classified as four classed as Z1,Z2,Z3 and Z4.It is measured by the instrument of S0910-1,For special requirement, it is measured by BVT-1 and classified as V1, V2, V3 and V4.The data are shown as below. Customer need mark their requirement of vibration and noise class on the order.
INSTALLATION
The bearing installation has close relationships with the accuracy, life and performance. Therefore the design and assembly departments should fully research into the bearing installation.
It is better to implement installation according to the operation standard. The items of the operation standard are usually as follows:
(1) Clean bearing and its related parts
(2) Check the size and finishing conditions of the related parts
(3) Installation
(4) Examine bearings after installation
(5) Feed the lubricant
The bearing packing should be opened shortly before installation. There is no need for cleaning to ordinary lubricating grease lubrication, direct-filling of lubricating grease or lubricating oil. Whereas it should use the clean oil to rinse the instrument purpose bearing or high speed purpose bearing etc. and get rid of the anti-rusting agent on the bearing. The bearing easily gets rusty without rust inhibitor. Therefore special care should be taken to such kind of the bearing.
What is more, the bearing which has been sealed with lubricating grease can be put into direct use with no cleaning at all.
The installation methods of the bearing vary according to the difference in the bearing structure, matching, condition. As it is mostly of axle rotation, the inner ring needs interference fit. The cylindrical bore bearing is commonly pressed in by pressing machine or most probably, it adopts the heat installation method. The taper hole can be directly installed in the taper axle. When it has been mounted to outer casing, usually it has excess clearance fit, the outer ring has shrink range, it will be pressed in