1.deep groove ball bearing 6009


Deep groove ball bearing is the most typical rolling bearings with extensive applications.
The raceways in both of the rings are in the arc groove form, which can carry radial load and axial load in double directions.
They can be applied in situations where high rotating speed and low noise and low vibration are required.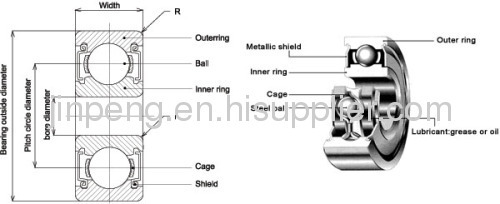 2.Material:
RINGS & BALLS vacuum degassed, high carbon chromium bearing steel GCr15 is the standard material for precision bearing rings and balls. The material has uniform specification as AISL 52100(America)DIN100 Cr6(German),JISSUJ2(Japan)
Chemical Composition(%)

STEEL NO

C

Si

Mn

P

S

Cr

GCr15

0.95-1.05

0.15-0.35

0.25-0.45

0.025

0.025

1.40-1.65
RETAINERS-LB standard bearing retainers are made from cold rolled carbon steel
3.OEM service

4
.precision grade:
P0/P6/P5/P4
5. Printing Words
: we can print the any words on products under authorization legally.
6.Quality Guarantee
: The items can be replaced or refunded beause of quality problem within one year from the date the buyer get the goods .
No. Model No.of instrument
Name of instrument Test item
(1): HV-4B Pc high-speed automatic carbon and sulfur analyser Chemical composition of raw material
(2): HC-II High-speed digital display automatic analyzer
(3): 4X1 Metallurgical microscope Analysis of material and metallurgical structure
(4): Y9025 Roundness measuring equipment Roundness of groove and outer diameter
(5): R902 Groove curvature inspecting instrument Groove curvature and groove shape
(6): SRM-1 Surface roughness inspecting instrument Roughness of groove and surface
(7): S0910 Bearing vibration inspecting instrument (Accelerationg)vibration and abnormal sound
(8): BVT-1 Bearing vibration inspecting instrument (speed) vibration and abnormal sound
Installation
In a deep-groove radial bearing, the race dimensions are close to the dimensions of the balls that run in it. Deep-groove bearings can support higher loads.