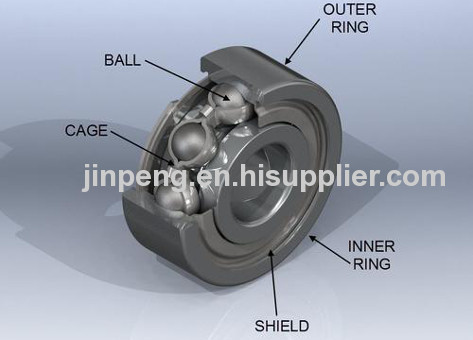 How to measure a bearing

Sometimes you may need to identify a bearing due to general wear and tear. Most bearing references now are laser stamped but these wear and rub off more quickly than the previous method, which was engraved deep in the bearing's metal.
Bearing Sizes
Each bearing has an inside diameter, outside diameter and width diameter in that order. Most bearings are metric in size, but can also be imperial. On our site, each bearing shows its principal dimensions.
d = Inside diameter
D = Outside diameter
B/T = Width diameter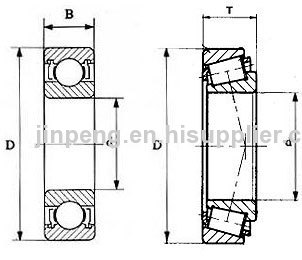 You can search for a bearing entering this information on the home page in the boxes provided.
Once you have identified the bearing's code some bearings come complete with seals or shields. This is known as the suffix in the bearings reference.

Example

6205 2RS1C3
The bearing type design that you need is a single row deep groove ball bearing with the following dimensions and suffix.
d = 25mm
D = 52mm
B/T = 15mm
Result = 6205

The bearing also has a seal either side of the bearing.
2RS1 = 2 Rubber seals
2RSR = 2 Rubber seals
DDU = 2 Rubber seals
2Z = 2 Metal shields
ZZ = 2 Metal Shields
Result = 6205 2RS1

And the internal clearance being C3 means that the bearing has room for expansion if needed between the races of the bearing, whilst holding the outer ring and moving the inner ring in a radial movement you will detect a little amount of play between the 2 rings. All standard clearance bearings have this movement, it may only be a small amount of movement but is controlled by international standards. C3 means the bearing has more clearance than standard.

For example we may use C3 clearance on bearings where a cold start up application my cause the balls to heat up quickly, the heat needs to go somewhere. Some of the heat gets passed through the outer race to the housing and the inner race to the shaft, this causes expansion which closes up the clearance in the bearing. If you did not allow for this clearance the bearing would not have room for expansion and lead to bearing failure.

C2 = Clearance less than normal
C3 = Clearance greater than normal
C4 = Clearance greater than C3

Result = 6205 2RS1C3
---